Innovision Society
Our Mission
Innovision Society's mission is to help well-deserved members with scholarships and financial empowerment, guiding them to a brighter future.
While many have a vision for a better tomorrow, the path to travel is not always clear. Sometimes one just needs a little creativity, inspiration…and help to find their way. That's where Innovision Society comes in. We believe that everyone has the right to bring their vision for their future to life. We're here to help and encourage members of our community to pursue theirs.
Our Vision
Innovision Society's vision is to enhance the lives of our members and community for a better future.
History of Innovision Society
Innovision Society is a DBA of the Consumers Cooperative Society of Santa Monica, Inc. (Co-Op) and administers the scholarship program. Now more than 30,000 active members strong, the Co-Op has rebranded itself and boosted its focus on supporting the community through education, offering scholarships, member eligibility in Kinecta Federal Credit Union, financial education, volunteer opportunities, and community service. Innovision Society is dedicated to enhancing the lives of its members and the community.
The Consumers Cooperative Society (Co-Op) Story
The Co-Op was founded in 1936 as a buyers club, which grew and evolved over the years. The Co-Op expanded its scope to operate a thriving grocery store, gas station and credit union. Members could take advantage of a Co-Op-sponsored child care center as well as a funeral society. Through a licensed insurance agent, members could obtain reasonable auto and homeowners coverage as well as enroll in Co-Op-sponsored medical and dental plans. The group held popular art shows and book sales, and even published a magazine. Members came from near and far for the annual one-day Christmas tree sale! The Co-Op truly served its members' economic, social and cultural interests.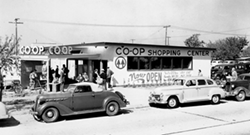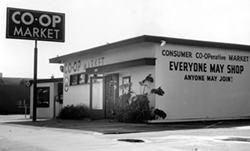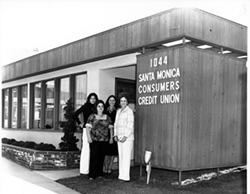 Faced with increasing competition from large supermarket chains and the rising cost of advertising, the Co-Op grocery store was forced to close its doors in 1975. However, the Santa Monica Consumers Credit Union continued to operate successfully on its own for the next 25 years. In 2000, after a nationwide search for the right partner, the Co-Op credit union merged with Kinecta Federal Credit Union.
Celebrating 83 Years:1936-2019
Go to main navigation